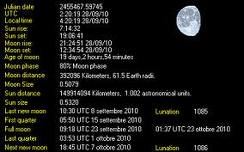 Effemeridi lunari
Misurazioni ed annotazioni in corso di osservazioni scientifiche.Come i naviganti ricorrono alle effemeridi,tabelle di misurazioni astronomiche,così Samuel Hartlib annotava nelle sue Ephemerides le notizie relative alle news che fecero del XVII secolo,l'era della Rivoluzione Scientifica.Analogamente questa rubrica di updates & news propone un diario su ciò che di innovativo il campo scientifico e chirurgico in specifico offrono.
Measurements and notes taken during scientific observations.Just as sailors use "ephemerides"(astronomical measurements tables),so Samuel Hartlib catalogued the scientific news that made the XVII° century the age of "Scientific Revolution"into his "Ephemerides".This column of updates & news intends to propose likewise a diary concerning innovations in surgery.

Quest'opera è distribuita con Licenza Creative Commons Attribuzione – Non commerciale – Non opere derivate 3.0 Italia.